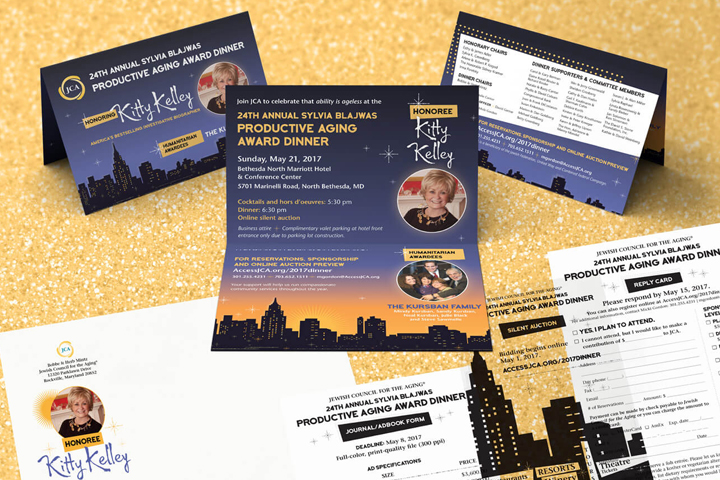 Whether your nonprofit event is a small dinner or a large gala, it needs to inspire people to attend, sponsor or donate, so your organization can advance its mission. As the face of the event, the design is of utmost importance. To be effective, it needs to engage and connect with your audience. It needs to make them care about your cause and your work.
A design that shines will net you stellar results by:
attracting attendees and sponsors and making it easy for them to say yes.
making the event and your organization memorable.
keeping people talking and excited.
A design that shines will also help you…
Set a Goal.
When staff and volunteers get excited about your event, it makes it easier to set and achieve goals. Their enthusiasm will show when talking to potential sponsors and they will feel more involved. Set a specific and measurable goal for your event, such as "raise 50% more money than the previous year's event" or "get 10 new sponsors." Once you decide on a goal, share it with staff and volunteers and track the results as you go.
Build Excitement.
Sometimes there is a budget for a huge draw. Perhaps there is a celebrity or prominent local figure who has a connection to your cause who would be willing to speak at the event or make a donation. Maybe there is a musical band that your audience would love to see and hear, or a special venue that will help attract attendees.
But sometimes there isn't a budget for that, making the design even more important.
Start building excitement for the event by having a Save the Date designed and sent out. Its design sets the stage for the look of the other event collateral. Have it professionally designed for that reason and so that sponsors can see what they are helping pay for (they want to be a part of something that looks good!).
The Save the Date could be in the form of a mailed postcard, an e-mail announcement and a post on social media. Regardless of the type of announcement, you need to include:
your nonprofit's logo (and the logos of any sponsors you may have procured at that time),
the name of the event,
the date and location,
the link for the recipient to find out more information as it becomes available and how to RSVP.
Ask staff and volunteers to share the info on their social media accounts (preferably with a professionally designed set of appropriately sized social media images that match the event's design).
Place print ads in local newspapers, magazines, and print or e-mail newsletters that are relevant to your audience.
Get Sponsors.
Procuring monetary or in-kind sponsorships can offset the costs of holding a fundraising event—the venue, the design, the printing, etc. Potential sponsors could be large corporations, small local businesses or other nonprofits. Seek out those whose values align with those of your organization. For example, if your cause is to feed those in need, contact local restaurants about catering the event at a discounted rate or as an in-kind donation, or by providing monetary sponsorship. See if a local photographer would be willing to discount or donate his/her services by photographing the staff and volunteers of your organization interacting with those you serve in the community. The photos could be displayed at the event and perhaps used in other materials with permission and a credit line.
Promotional materials for the event are potential exposure for sponsors:
postcard,
invitation,
e-mails,
print and banner ads,
social media images.
Other opportunities for sponsor recognition are seen at the event:
backdrop slides;
banners or posters;
ads in the program;
napkins;
small signage mounted in a frame or on an easel at tables with hor d'oeuvres or at the bar (if serving drinks);

tchotchke

s or swag given out, such as tote bags, notebooks or pens;
awards presented to honorees.

Get RSVPs.
The invitation package should continue the design from the Save the Date and social media images, so it's immediately recognizable as the same event. This is important because it serves as a reminder to those who've already seen the other pieces.
The design and copy of the invitation should reflect the tone of the event—whether that's elegant and serious, or fun and whimsical. Depending on your budget, your designer may consider several creative options, such as a die cut, a unique fold, a specialty ink or embossing. If the invitation is interesting, it's more likely to excite and provoke a response from the recipient.
A print invitation package usually includes:
a carrier (outer) envelope, which should entice the recipient to open it (as opposed to throw it away);
an invitation;
a reply card and/or link to RSVP online;
a reply envelope.
An invitation package could also include a sponsorship form with the various sponsorship opportunities. Or, it could include a form allowing for memorial gifts to be made, enabling individuals or their loved ones who have a connection to your cause to become additional sources of contributions.
You could also consider sending out an e-mail invitation, but it's not likely to have the same impact. It can cost less out of pocket to send out e-mails, but the ROI can be far greater—and competition lower—with postal mail.
Envision the Venue.
After investing in the event design up to this point, don't neglect the decor at the venue, which adds to the ambience and provides opportunities to continue telling your story:
backdrop slides or a slideshow,
photographs showing the emotional side to your work,
banners or posters,
centerpieces (floral or non-floral).
If you will need any of these items, have them professionally designed to match the rest of the event materials.
If given a choice by the venue, choose colors for the centerpieces, tablecloths, napkins and seat covers that closely match or complement those from the rest of the designed materials. You don't want the pieces at the venue to clash with the design that's already been established for the event.

Get Donations.
If you don't ask, you won't receive. Even though attendees have already paid for a ticket to attend, encourage them to donate at the event. Some ideas include:
Holding a raffle. Have attendees purchase a ticket for a chance to win a giveaway, which could be an item or service donated by a sponsor or individual. You could even get creative and tie in the type of prize with your cause.
Placing a list of some of your organization's expenses at each seat at the event. The list would include brief descriptions and amounts for specific expenses for funding certain aspects. This allows attendees to pick and choose what and how much they donate. It also makes them feel as if they are more involved with your work.
Holding a silent auction online or at the event with items donated by sponsors or individuals.
Meet Your Goal.
After the event, once you've met your goal, be sure to:
let staff and volunteers know, which helps build morale and feeling they played a part in it;
send a thank you e-mail or handwritten card (the latter being the most impactful and appreciated) to attendees, donors and sponsors to express your organization's gratitude and contribution to the event's success;
let your social media followers know and include photos from the event.
Get a Design That Shines for Your Nonprofit's Next Event.
Let us help you increase your reach and revenue from your next fundraising event. We helped one client achieve:
a 75% increase in RSVPs,
a 65% increase in attendance and
an 80% increase in revenue!