Why We're Unique
We focus on the bigger picture and the impact that you want to have, as opposed to just focusing on a deliverable. After all, what you're really coming to us for is something beyond that. We help ensure that our work together is going to help your organization have more impact.
Our process is collaborative. We don't go behind the curtain to design something in isolation. Your input is important throughout the process.
We also use our expertise in accessibility to help you reach more people through your branding, your website or digital publications.
---
Colleen Gratzer
Chief Creative Officer, Lead Accessibility Specialist, Educator and Speaker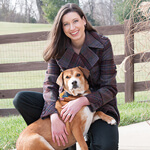 Leading the team, Colleen is an award-winning designer with almost 25 years of branding, design, publication and web experience.
A native of the Washington, D.C.-area, Colleen founded Gratzer Graphics LLC in 2003 to help nonprofits and businesses that do good advance their missions and have more impact with their branding and marketing efforts.
She is a Brand Academy™ Certified Branding Expert and an accessibility consultant, having been trained by one of the top accessibility experts to the federal government, PubCom. She has provided training on InDesign accessibility to the Department of the Interior, at the Creative Pro InDesign + Accessibility Summit, CreativePro Week and CreativePro Design + Accessibility Summit.
Under the brand Creative Boost, Colleen hosts the Design Domination podcast, mentors graphic designers and teaches accessibility courses.
She's also appeared on several podcasts and blogs such as:
Outside of work, Colleen raises money and awareness for shelter animals, donating all proceeds from two online stores to animal rescues and shelters.
---
The Team



Roger Belonio

Incredible InDesign and PDF Accessibility Technician

Roger is master of InDesign and all things technical, helping ensure the accuracy and accessibility of your publications.




Eliza Gokun

Dazzling Designer

Eliza's experience in branding, accessible design and publication layout helps you tell meaningful stories and connect with your audience and reach more people.




Artyom Scherbyna

Rock Star Web Developer

Having played guitar in a band, Artyom is quite literally a rock star.

Artyom builds websites—from simple to complex, adding custom functionality for specific client needs, to help you update your content more easily and to help you with ongoing accessibility compliance.
---

Special Skills
Our expertise includes additional, unique skills:
brand strategy;
accessibility for InDesign and PDF files and websites (Section 508 and ADA compliance, WCAG);
eagle eye for catching spelling and grammatical errors;
foreign languages: Spanish (proficient) and French (intermediate)

Professional Affiliations
We are members of: