Branding, Design and Accessibility for Nonprofits | DC and Maryland
Design and accessibility for nonprofits who want to increase their reach and revenue
---
Proven Results
Real results from a few of our clients.
Proven Results
Increase in donations in 3 months
Increase in revenue from an event
How We Help
Branding and Design
Brand Strategy and Design

We take your brand to the next level, so it has more impact.

See our

branding

work

Publication Design

We design publications that tell your story and have impact.

See our

publication

work

Event Collateral

We design event materials that help you get more attendees and sponsors.

See our

event

work
Accessibility Services
Some of Our Clients
U.S. Department of the Interior
Baylor University
International Finance Corporation
World Bank Group
Embry-Riddle Aeronautical University
Montgomery County, Maryland
Endocrine Society
Greatheart Consulting
Cold Spring Harbor Laboratory Press
We've been working to make sure all of our materials are fully accessible. We still have a ways to go, but I have learned so much from this process and from working with the experts at Gratzer Graphics to help us take the steps we have taken so far—and to help guide us in the steps we still need to take.

If you don't know much about accessibility or think that accessibility is primarily in what colors you use, then I encourage you to sign up for their newsletter. Lots of helpful tips and general learning on what accessibility means.

Janai Wallace, Greatheart Consulting
What can we help you with today?
Recent Articles
How to Test Your Website for Accessibility

Website accessibility has been increasingly getting more attention over the past five years due to the website accessibility lawsuits that have occurred. You can take steps right now to check your website for accessibility issues.

Continue reading

How to Test Your Website for Accessibility

What to Expect With InDesign File Remediation

When you need to have an InDesign file remediated and made into an accessible PDF, it's helpful to know what information to share with the remediator as well as what to expect with InDesign file remediation.

Continue reading

What to Expect With InDesign File Remediation

How to Write Image Alt-text

Many organizations know that it's important to add Alt-text to images to make them accessible to people with a visual disability. But they don't necessarily know how to write Alt-text or what the best practices are. Find out 10 tips for how to write image Alt-text the right way.

Continue reading

How to Write Image Alt-text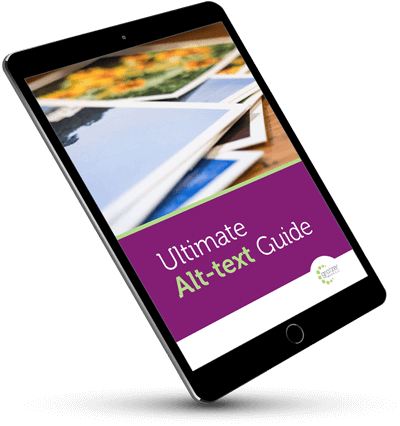 Ultimate Alt-text Guide
Find out who should write Alt-text, which images need it, how to write it and how to add Alt-text to images.