Branding, Design and Accessibility for Nonprofits | DC and Maryland
Brand strategy, design and accessibility for nonprofits who want to increase their impact
Proven Results
Real results from a few of our clients.
Proven Results
Increase in donations in 3 months
Increase in revenue from an event
Some of Our Clients
International Finance Corporation | World Bank Group
Embry-Riddle Aeronautical University
Montgomery County, Maryland
Endocrine Society
Jewish Council for the Aging
Society for Imaging Informatics in Medicine
Society of Nuclear Medicine and Molecular Imaging
American Association of Community Colleges
Cold Spring Harbor Laboratory Press
Aerospace Industries Association
What creative and talented designers! They know what's needed to propel an organization to the next level. Colleen is a passionate, trustworthy, deadline-conscious professional and a go-to resource. I admire her a lot!
David Gamse, CEO, Jewish Council for the Aging, Rockville, MD
What can we help you with today?
Recent Articles
11 Myths About Accessibility

Unless you or someone you know has a disability (temporary or permanent), you may not think about accessibility at all. If your organization doesn't understand it or has preconceived notions about it, read on to get the facts, as we dispel 11 myths about accessibility.

Continue reading

11 Myths About Accessibility

5 Reasons You Shouldn't Skimp on Logo Design

As a start-up business or nonprofit organization, you may have limited funds and feel that logo design is an area in which you can skimp. But you get what you pay for, and logo design definitely falls into that category. Opting for a cheap logo design can have several pitfalls, which may end up costing you much more later on in terms of logo redesign or legal costs, or in terms of lost donations or sales due to a poorly perceived brand or position in the marketplace.

Continue reading

5 Reasons You Shouldn't Skimp on Logo Design

Is Your Website Hurting Your Nonprofit?

Your website is an extension of your brand, another way that people can interact with your organization. Even though it doesn't talk, it certainly says something about your organization. So negative experiences with your website can have a detrimental impact on your nonprofit's brand. Visitors who already know of your organization may be more forgiving than new visitors, but first impressions are lasting. Let's look at six areas in which your website could be hurting your nonprofit.

Continue reading

Is Your Website Hurting Your Nonprofit?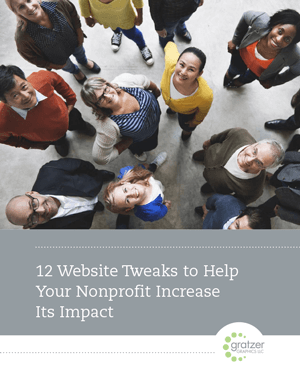 12 Website Tweaks to Help Your Nonprofit Increase Its Impact
Is your website helping or hurting your organization? Is it a lawsuit waiting to happen?