Branding, Design and Accessibility for Nonprofits | DC MD VA
We help nonprofits and do-good businesses increase their impact through strategic design that excites and engages.
How We Help
Branding and Marketing Collateral

We can take your brand to the next level, so it has more impact.

See our

branding

work

Publication Design & Accessibility Remediation

We design publications, including accessible ones, that speak for your brand and have impact. We also remediate existing InDesign files.

See our

publication design

work

Website Accessibility Audits

We identify accessibility issues on your website, which helps you get compliant and prevent potential legal issues.

Learn more

about an accessibility audit.
Some of Our Clients
International Finance Corporation | World Bank Group
Embry-Riddle Aeronautical University
Montgomery County, Maryland
Endocrine Society
Jewish Council for the Aging
Society for Imaging Informatics in Medicine
Society of Nuclear Medicine and Molecular Imaging
American Association of Community Colleges
Cold Spring Harbor Laboratory Press
Aerospace Industries Association
Fast Facts
Fast facts
Combined Years of Design Expertise
What creative and talented designers! They know what's needed to propel an organization to the next level. Colleen is a passionate, trustworthy, deadline-conscious professional and a go-to resource. I admire her a lot!
David Gamse, CEO, Jewish Council for the Aging, Rockville, MD
What can we help you with today?
Recent Articles
Is Your Website Hurting Your Nonprofit?

Your website is an extension of your brand, another way that people can interact with your organization. Even though it doesn't talk, it certainly says something about your organization. So negative experiences with your website can have a detrimental impact on your nonprofit's brand. Visitors who already know of your organization may be more forgiving than new visitors, but first impressions are lasting. Let's look at six areas in which your website could be hurting your nonprofit.

Continue reading

Is Your Website Hurting Your Nonprofit?

How Many Donations or Sales Will You Miss Out On if Something Happens to Your Site?

7 Things to Look for in a WordPress Web Host

How many donations or sales will you miss out on if something happens to your site: if it goes down, gets hacked or is so slow that people leave and go somewhere else? If you have a good web host, these are less likely to happen. In the world of website hosting, most of the cheap ones can cost you more in the long run if something does happen. So let's take a look at 7 things to look for in a WordPress web host, other things to consider and which hosts we recommend.

Continue reading

How Many Donations or Sales Will You Miss Out On if Something Happens to Your Site?

It's Our Dog-gone Birthday!

July marks 15 years in business for Gratzer Graphics. In dog years, that comes out to 105.

Thank you to all of our clients who've contributed to our success, especially those who've been around since almost the beginning!

Continue reading

It's Our Dog-gone Birthday!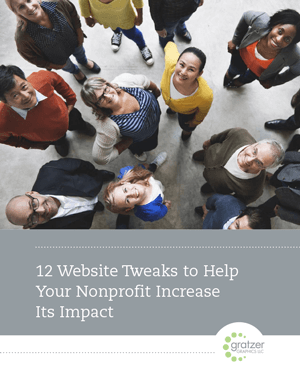 12 Website Tweaks to Help Your Nonprofit Increase Its Impact
Is your website helping or hurting your organization? Is it a lawsuit waiting to happen?