Accessible Design and Document and Website Accessibility Consulting | Gratzer Graphics
Accessible document and website design and remediation services to help you achieve WCAG, Section 508 or PDF/UA compliance
---
Proven Results
Real results from a few of our clients.
Proven Results
Increase in donations in 3 months
Increase in revenue from an event
Accessibility & Design Services
Some of Our Clients
Several federal and local government agencies
Baylor University
International Finance Corporation
World Bank Group
Embry-Riddle Aeronautical University
Montgomery County, Maryland
Endocrine Society
Greatheart Consulting
Cold Spring Harbor Laboratory Press
What Clients Are Saying
We chose Gratzer Graphics for an audit of InDesign and PDF files because of their expertise in accessible PDFs, a strong graphic design portfolio and experience training others. I appreciated the ongoing, open, reliable communication that engendered a sense of trust and confidence.

The expertise is invaluable, but so is the network that enabled us to tap into native screen reader users who could provide direct feedback on their experience with the PDF files. Thank you for an excellent job!

A government agency
I first heard about Colleen from trusted colleagues who recommended her as the go-to person for creating accessible websites. After I watched some of her presentations about accessibility, I knew we needed to ask her to quote on building our not-for-profit organisation's new website.

When the director and I met Colleen during the briefing period, we knew we were in the presence of someone who really knew their stuff and who would communicate well with us. We've been delighted with the site.

Colleen's process is very professional. She guided us step by step, gave clear explanations of the technical aspects of the build, and always listened carefully when we had questions or opinions. She provided clear documentation both during and after the process. We really couldn't have asked for more!

I really trust Colleen to deliver what she says she will. It was wonderful to work with someone who understands and delivers quality design, accessibility and website development. And Colleen is a genuinely lovely person with excellent communication skills. Working with her on a website design and development project (something that can be potentially quite stressful) was a wonderful experience.

Jacki K., Imagine More
We've been working to make sure all of our materials are fully accessible. We still have a ways to go, but I have learned so much from this process and from working with the experts at Gratzer Graphics to help us take the steps we have taken so far—and to help guide us in the steps we still need to take.

If you don't know much about accessibility or think that accessibility is primarily in what colors you use, then I encourage you to sign up for their newsletter. Lots of helpful tips and general learning on what accessibility means.

Janai Wallace, Greatheart Consulting
What can we help you with today?
Recent Articles
How to Get Your Organization on Board With Accessibility

Many people have misconceptions about accessibility. So when it gets brought up, there may be pushback. Get the facts so that you can get coworkers or board members on board with accessibility and counter some common excuses you may hear.

Continue reading

How to Get Your Organization on Board With Accessibility

Importance of Closed Captions for Videos

Many people may think that captions for videos are only for people with a hearing impairment. But captions not only benefit hearing individuals. They can actually help your videos reach more people, increase engagement of your videos and have many other benefits.

Continue reading

Importance of Closed Captions for Videos

Manual Accessibility Testing for Websites

A manual website accessibility audit is the most reliable way to find out how accessible your website currently is. It is a key player in the process in identifying accessibility issues and getting your website into compliance with Section 508 or ADA laws.

Continue reading

Manual Accessibility Testing for Websites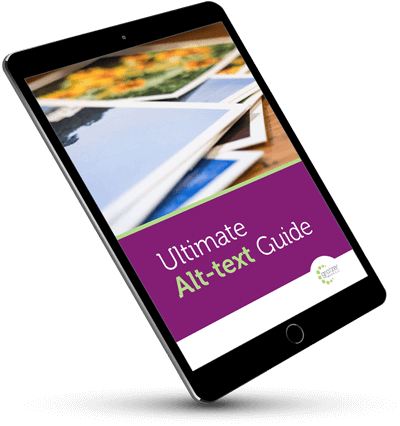 Ultimate Alt-text Guide
Find out who should write Alt-text, which images need it, how to write it and how to add Alt-text to images.