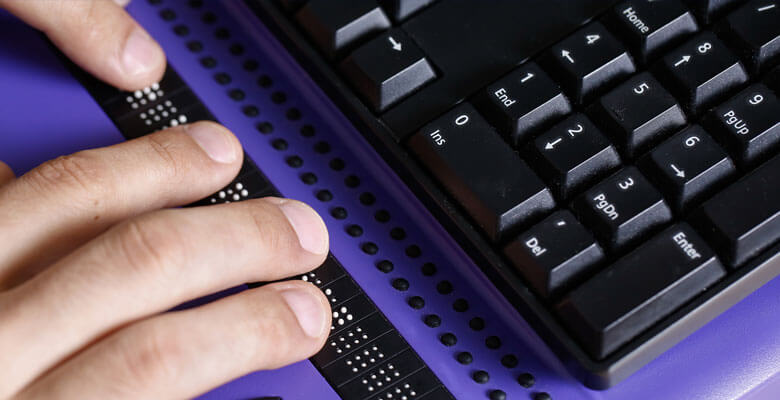 If your organization doesn't have an accessibility statement on its website, you're missing out a potential way to protect your organization but also show that you care about being inclusive of your audience and the people you serve. Find out why your organization needs an accessibility statement.
What Is an Accessibility Statement
An accessibility statement, also called an accessibility notice, is an explanation of your organization's commitment to accessibility.
The statement should be on its own page on your website. It should also be easily found on every single page of your website. Include them in the footer and in your site map.
Posting an accessibility statement may seem like a small step, but it is actually really important and is sometimes overlooked.
The Purpose of an Accessibility Statement
An accessibility statement can help your organization.
This is not legal advice, but some accessibility lawyers say that an accessibility statement can help ward off individuals looking for easy accessibility lawsuits.
It says that you're taking a proactive, rather than reactive, approach to accessibility, which is always better. You don't want to wait until a legal claim has been made against you.
It also lets people know that your organization is aware of accessibility and taking steps toward making your website and documents accessible.
This is good for branding and reputation because it shows you care about the people coming to your website, the people you serve and that you want to be inclusive of them and their needs.
Most organizations are not only not thinking of these individuals. They are actually excluding them.
What to Include in an Accessibility Statement
The amount of information included in an accessibility statement can vary. It typically includes:
an explanation of your organization's commitment to accessibility, as long as that is your intention;
the date the statement went into effect and when it was last modified;
your organization's commitment to accessibility;
the steps your organization has taken to make your website and digital documents accessible;
accessibility issues you may have identified and are in the process of fixing;
what level of WCAG conformance, if any, you are aiming for, such as WCAG 2.0 or 2.1 AA;
any audits you've had done and the date of them;
any other ongoing efforts you might be taking to ensure accessibility, such as periodic checks; and
the name and contact information for an individual responsible for handling any questions or concerns regarding the accessibility of the website or documents.
Your organization—with or without the help of a lawyer—should update the accessibility statement as needed.
Whatever you do, don't just post one and then not take any steps to make your site and documents accessible.
Sample Accessibility Statements
You can get started with an accessibility statement by either including some of the points already mentioned, or you can enter some information on the W3C website. They have a page to help you generate an accessibility statement.
SiteImprove also has an accessibility statement generator.
These are great starting points.